Ok, so I only had 2 trends for this upcoming season that I'm not quite fond of. But when it comes to picking my top 2 most favorite styles...ahhh it's so hard! I love so many of them!
These are my top 2 favorite fall 2010 clothing trends: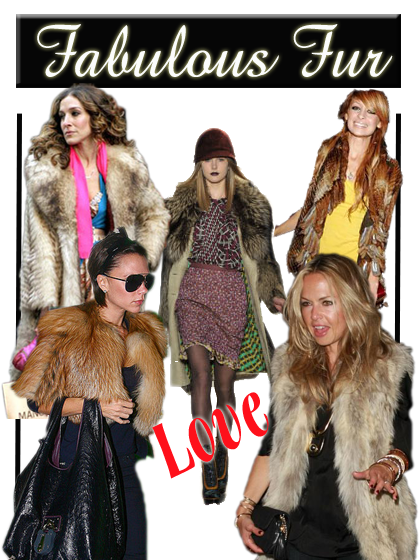 Ahhh fur! So glad your making such a strong comeback! This may be my personal #1 fav this fall! Fur vests, fur jackets, fur shoes, fur purses...its all so much fun! Now me, personally, wouldn't pick out a long fur coat for myself. I'm more of a vest girl like RZ & Nicole Richie. I'm also more of a "toned down" fur sporter. I like the more fitted look as opposed to something more bold. I love the long coats & larger fur on others, I just feel like it overtakes my petite body and makes me look...more...animal-like perhaps? However, I love a bold shoe, so one with fur, such as a boot or bootie....love love love!

I have ALWAYS loved plaid, so the fact that its actually coming back big and bold makes me so excited! If you don't have a plaid piece, you HAVE to get one! If you aren't sure what your feelings are for this pattern & don't want to embrace the full body plaid, such as a dress or pant suit, just go for a top to wear with jeans like Jen. I am "mad for plaid" so I would definitely do a dress, pant suit, skirt, trench, you name it! I have a pair of Trina Turk plaid pants I bought from the store about 3 years ago, and those girls are coming out this fall...and I'm so excited about it! I love it when that kind of stuff happens, because it feels like you just got something completely new! (I also have a jean fur jacket by ABS that I am pulling out of my back closet this year for some furry winter fun!) So always think through things when you go through your closet to get rid of "unused pieces". Make sure its not a cycle style (a trend that ALWAYS makes a comeback within 1/2 a decade) before you "chunk" it .
Ahhhh I'm just so excited about clothes this fall! Weather, get cold already!!!
These are JUST 2 of my favorites for fall. What are yours? There are so many cool shoe and accessory trends too! Share your top trends with me!