If you missed our July tent sale.....no worries! Starting yesterday through July 31st, you can use the same sale discounts that were offered on the regularly priced merchandise, as well as shopping through all sale items that were under the tent that day! We have rolled the racks back out and they are in the store as we speak! How many boutiques will mark pieces all the way up to 80% off? Not many, so take advantage of this! We have had so many requests from customers that were out of town. We have never offered this before, so make sure you don't miss out!
I thought I would share with you a few of my FAVORITE things that were put on sale...maybe this will give you a little taste of what GREAT deals you can get, as well as trendy and stylish pieces to spice up your closet selection!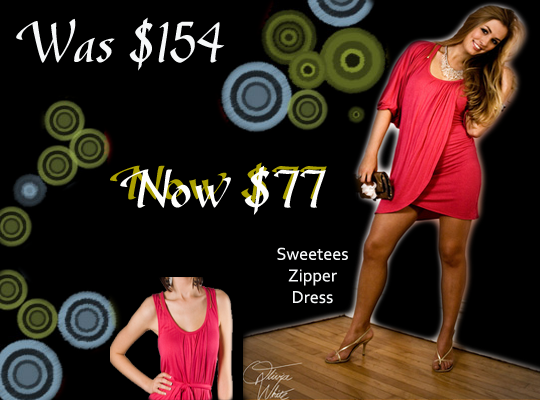 LOVE LOVE LOVE this zipper dress by Sweetees! All of Sweetees pieces are made with a great jersey fabric which washes well and lasts. The fabric is super soft and super comfy! This girl is super unique because you can actually USE the zippers on this dress! Unzip the zipper around the neck, and you are left with a sleeveless dress that can change the occasion and the season! The top piece comes off as a bolero that can be worn with a tank and jeans!
>>Get this dress
Another one of my favs...plus....insanely inexpensive for a high end designer! This strapless zipper front dress can be worn for a night wedding, New Years event, holiday party, Vegas trip....or even a good going out dress in the cooler season! How do you make this metal scrunch cocktail dress "OK" enough for going out without looking overdressed? Throw a black blazer over it (short or long), a leather jacket, or a cropped moto-style jacket, tights, and booties or over-the-knee boots...and you have a cute and sassy "night on the town" ensemble!
I am defiantly a jeans girl! Not only that, but True Religion is my favorite denim line! I own these myself, and I didn't get them at this kind of price....the sale price is a STEAL! Distressed denim is everywhere and this pair is cute, unique, comfy, and not overdone! Whether its a cute fitted top and heels for a night out, or a snug tee with boots or flops, your sure to feel stylish and trendy with whatever you decide to pair these hot "holey" bottoms with!